I ran across this picture the other day as I was wrapping up a hot, sweaty mission trip
and I couldn't take my eyes off of it!!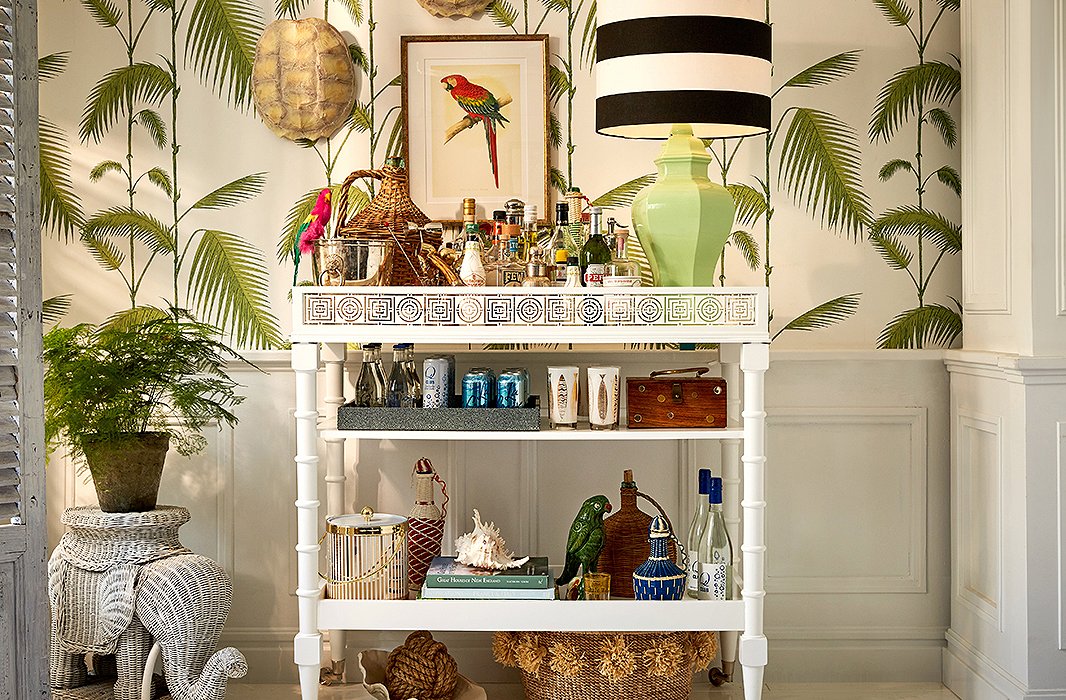 It's everything I love plus more!!
It just looked refreshing and relaxing to me given the fact that it hit 100 degrees that week.
It's from One Kings Lane.
It is everything!
The article is called "How To Host Cocktails In The Tropics."
I'm in!
You can shop their site for a lot of gorgeous tropical accent pieces
or if you are like me- you need a high/low version of this fabulousness!


Let's start with the wall paper.
Cool, gorgeous green palm background.
If that one doesn't do it for you I happen to like this one a lot, too.
It's on sale for $69.99 a roll vs the over $100.00 for the one in the pic.
A little high/low wallpaper action.
And to be even more economical you could frame a 24 x 36 remnant and hang behind the bar cart if wallpapering the whole wall isn't an option. Or you are a renter.
Fabulous
white bar cart is the major player.
Bar cart options are everywhere and I've talked bout my love for bar carts here and here.
They are everywhere - new, reproduction and vintage for great prices.
It's all preference and what you have space for.
My preference would be to hunt for a vintage piece to use.
I saw a white wicker desk last week in a Goodwill for $10.00. Perfect condition.
It would have made a perfect bar and brass castors could have been added if rolling around was desired.
Get creative. Look around.
But if setting up a bar cart situation to mimic this one needs to happen now
here is an economical option:
This white wicker bar cart is on sale for $83.99 with free shipping. Or if white is not a must-have this one is $100.00 from World Market:
And if money is no object then check out what Serena and Lilly or the vintage sites like Chairish have to offer.
Next up in this high/low quest to recreate my dream relaxation spot:
The wicker elephant with a plant.
He has nothing to do with actually getting a refreshing drink from the bar cart
but he's too fabulous to leave out!!
We love elephants at our house. Proof here and here!
Again, you can search around and find these guys at tag sales, vintage shops and more.
But if you are going to recreate this right now, here are some high/low sources: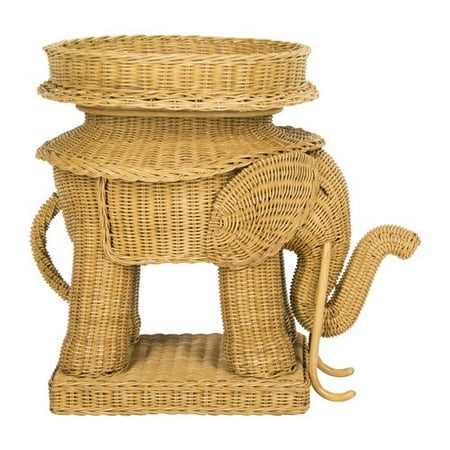 This guy is $205.00 right now making him more than the bar cart
but pretty fabulous none the less.
But I like this option, too...
If you wanted a little trash receptacle near the bar you could purchase this guy for $55.20, put a plastic trash bag inside and put him next to the bar.
The soft green lamp with the black and white striped shade is too fabulous not to copy.
I'm sure that you can find a lamp that color from a million sources online but you could also easily find a high/low option at thrift stores
and big box stores like Home Depot and Wal Mart.
What about this lamp with a great b/w striped shade?
Now for the shade:
I googled and found a lot of options for $65.00 and up.
That's more than I would want to spend for lamp and all.
So the high/low option for me would be to copy this idea:
How easy is that!!
Just buy a few yards of black grosgrain ribbon (Wal Mart, Hobby Lobby, etc)
and glue it on a white drum shade!
You could paint the stripes as well if you wished
but ribbon is super easy and makes for perfect stripes.
I covered this lampshade with fabric for my "Black is Back" Library One Room Challenge.
You could easily use black and white striped fabric to cover
a straight up-and-down drum shade.
Next up, the parrots.
because what are the tropics without colorful birds.
This print is $99.99 framed from Allposters.com
Not bad for a framed picture ready to go, but...
you can visit The Audubon Society website and print any of the Audubon birds for free!!
Yep, free.
Or if you want something a bit bigger, send it to your favorite photo printing company online and you are set.
Find a fabulous bamboo frame at a thrift shop and you have tropical bird art.
All the frames below (from my last ORC) are thrifted and then painted with my favorite gold spray paint.
And if parrots/macaws etc. aren't your thing there are a ton of shore birds to choose from.
I love all the pink Audubon birds as I've mentioned before.
Here are a couple of tropical birds that could be added to the bar cart set up.
The bronze parrot was a thrifting find last week and the green parrot pitcher was purchased a few years ago at a discount import store.
Keep your eyes open - I see tropical accent pieces like this all the time!
Small, but still something I love, is the turtle shell.
There was a Nate Berkus one at Target a few years ago that I did not buy and while I try not to have regrets - I really wish I had just spent the money and gotten one. #rats
They are around on eBay for $50.00 and up.
This is the least expensive resin turtle shell I could find for my high/low quest.
It is $36.00 and could be removed from the stand to hang on the wall
and even dry brushed with white to mimic the one in the picture.
There are some gorgeous high end options available from Grandinroad and Houzz.
I did see one in a consignment shop a few months ago for a good price so keep your eyes open. And if Nate does another big, fabulous turtle shell I'm buying it on day one!
There are bamboo trays and shells and such mixed in with the bottles and vintage glasses.
All of these are easy to find in thrift stores, vintage vendor booths, in etsy shops online and the IG accounts that feature vintage items.
Just start looking...
(some of the vintage trays and accessories at
elizabethandpayne
at
Westside Market Atlanta
)
That bamboo picnic organizer would be fabulous on a bar cart filled with swizzle sticks and statement napkins. Or bottles of mixers and such.
The bamboo wine rack could sit beside a bar cart or on the bottom shelf
if there was enough height.
And you can never go wrong mixing in some blue and white.
Use the bowls to hold limes and lemons, munchies like nuts and cheese straws or pour salt in a small saucer to use to salt glass rims.
The inspiration pic is just a starting point.
Get creative and style up a bar cart to help you feel like you are on a tropical get away.
There's plenty of Summer left!
I'm off to search for some great tropical drink recipes...
#staytuned