We took the bed out of the room a year or so ago.
College Girl was in the midst of one of her
many,
many,
many,
many,
many
moves and she ended up without a bed in her room here.
Since she pops in and out we moved the queen bed from the guest room into her room.
And then.
What happens to an almost empty room?
We could have admired the space and the light filled emptiness.
No.
In my house we 'stick' stuff in there.
Just until we have a chance to do whatever it is we need to do with said junk.
And then it happens again.
And nothing makes it to the attic and so on and so on.
And then you have a room full of 'stuff.'
We are channeling "Hoarders.
"
If we have barely used any of it in a year, do we really need it?
I'm thinking not.
Luckily, beginning to think about the ORC and this particular room coincided with Lent
and for the last few years (except last year) I have done
40 Bags in 40 days.
. (This is a great blog post/explanation.)
This year I decided to do 40Bin40D and we were having a yard sale at church so win/win.
I hauled my 'good junk' to the church :)
And then I looked at my Pinterest board for inspiration rooms to post for the ORC.
I have said many times before that I am a coastal gal, born in Charleston, SC.
I love that British Colonial/West Indies look that is traditional
to the old, deep Coastal South.
White is my favorite color

(or lack of color as the case may be.)
I love palm trees, globes and maps.
Seashells and souvenirs from the places I visit.
I love Iz.
I want to live here.
( Oh, India Hicks, you have made us all want to live here.)
In a white house.
On an island.
Where it's warm.
Surrounded by palm trees.
So my number one favorite inspirational room of all time is this one.
I would never leave this room.
And this room is a close second.
And all of the rooms at Hibiscus Hill ( The big white house on an island,
surrounded by palm trees, that belongs to India Hicks.)
Are you absolutely dying to get her new book.? I am.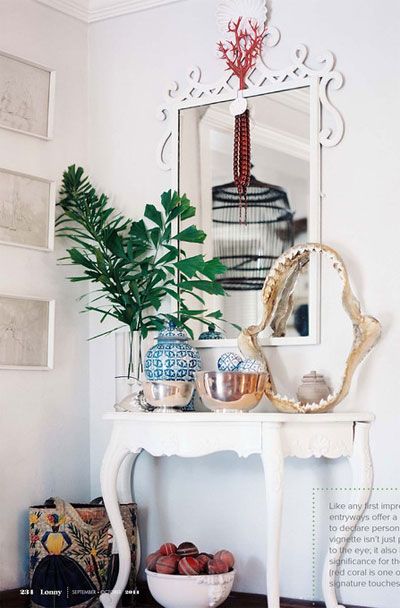 Since ol' Sig isn't going to jet up here from Brazil and give me any tips for my room and Anna Spiro is down under, here's what I'm thinking...
I have been painting walls white like crazy which is a huge change because for years I have had daring colors on my walls - red in the kitchen at one point, black and dark green walls, khaki, pink, yellow.
You name it. We've painted it.
I still love color on the walls but I just need white right now.
I'd like to rip up carpet and paint the floors white too
but I do not wish to give my husband heart failure.
So layering a rug will have to satisfy me for now.
We had painted wooden floors in the upstairs of a 100 year old house we restored
I loved them more than the oak hardwoods downstairs.
( You can find the original links to these images there as well.
Please "pin" from the original sites)
It's white, which needs to be freshened up if it is staying white or
It would have to be painted not stained wood, but still.
And I want a pop of color.
Chartreuse and pink. That's a pop for sure.
I'm always drawn to turquoise. And mirrors.
( I used it in the master bath and bedroom)
Or a great green like one of these.
I have several yards of this fabric that I bought years and years ago....
I'm not sure about the greens in it yet
but I can also visualize it as a long bolster on the daybed.
And I have had this print forever and never used it.
Now it's time to make some decisions.
(

Just curious - did the fabulous pictures and banter distract you from the fact that I didn't post before pics of the room and its fabulous off center window?? Good! Because it is still in hoarder mode. I have made strides in other areas of this project but not in getting cleared and painted. I should be in full panic mode by Week 4. You know, the week when the experienced ORCers and the organized newbies are pulling it all together! What's that quote about life being a daring adventure or nothing!??! Yep.)
Be sure to check out all the progress