If you follow along on Instagram
that Mollie's apartment flooded -
while she was away for a few days.
So it went from college apartment to indoor swimming pool.
The people next door started seeing water in their apartment
and the maintenance guys tracked it to her place but by then it was a mess.
I got the call and we took off to see what we could do.


The maintenance guy jumped in and started "saving her stuff"
and ripped up the soggy carpet and padding.
(The hot water heater was the culprit
and those guys got her HW back up and running in a few hours!!)
( This thing ran non-stop.)


Then came 2 weeks of non-stop fans and dehumidifiers
and unreturned, frustrating phone calls to the leasing company. OY!
Mollie had to live upstairs and try to function due to work commitments.
But finally she got her carpet put back down and after repeat visits from the carpet guys to deal with a horrible lingering smell we gave up and cleaned and treated it ourselves.
A friend gave us some products from her company,
ZEP
, and they did the trick!
Frustrating experience.


But the silver lining was that we had fun fixing up the little, under stairs powder room that was trashed in this event :)
I had found an adorable elephant lamp while thrifting this Summer
and Mollie had been planning to use it in that powder room eventually.
Sadly, the poor elephant lamp was a victim of the flood.
He was broken beyond repair in the chaos.


So we just went elephant hunting... in a good way!
This is the replacement elephant lamp.
After searching high and low this one was the cutest one for the money
(and some lamps we googled were hundreds of dollars - wow!)
This is actually from Wal Mart ( I know??)
We adored the one that was destroyed but this one works.
Please pardon the dated sponge painted walls - it's a rental.
We had the fabric but luckily had not gotten around to making the skirt.
The towel ring came with the rental :) but we found the cute little elephant shadowbox at a favorite thrift shop.
And the pretty hooked rug survived the flood - I just had to dry it out and clean it.
A close up of the happy elephants on the fabric. It is indigo blue and white.
But the real thrift shop score was this vintage bamboo shelf for the wall opposite the sink.
It is in perfect condition and so cute.
And just a few dollars!!
The little blue and white jars and bowls were scored at yard sales and Goodwill.
I'm sure she'll add some other goodies as she finds them
but for now the powder room looks good again.
My dad used to bring me little figurines and travel mementos when I was growing up and he traveled (a lot) for work. Quite a few of them were elephants and I stumbled across a couple when I was cleaning before the big graduation party.
The elephants are still my favorite animal to visit at the zoo.
One of my all time favorite photos from when Mollie was little was taken in front of the elephant habitat at Zoo Atlanta.
I fell in love with this
guy during the ORC!
And I have been a longtime fan of the
elephant rescue program at the David Sheldrick Wildlife Trust.
You can follow them on
Instagram
for daily updates with adorable baby elephant pictures and updates of successful rescues from elephants caught in poacher's traps.
How about a baby elephant kiss??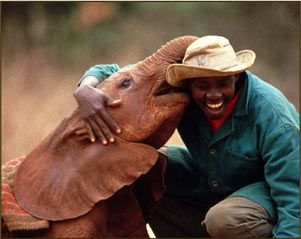 Sign me up!
A visit to see these guys in Africa is totally on
my
bucket list!!
If something closer to home is more your style then
watch the
Youtube video of Shirley and Jenny
being reunited after 20 years -
have Kleenex handy. No, really.
It happened in Tennessee at an
Elephant Rescue Sanctuary
.
Tennessee? How cool is that?
So elephants never forget and I haven't forgotten how much I have liked elephants through the years.
Other than the flood part of this redo, the elephant hunting ( in a good way) has been fun.