A little late in the day but I didn't want to miss Bamboo Friday!
Mollie and I are headed to see "Home Again" this weekend.
We are fans of Nancy Meyers films (and therefore her daughter's debut via this movie) and Reese Witherspoon as well.
Added bonus is the sets in this movie.
We have seen and heard the hype everywhere and are pumped.
What does this have to do with Bamboo Fridays??
Welllll, according to a recent OKL article , the sets are all things we love.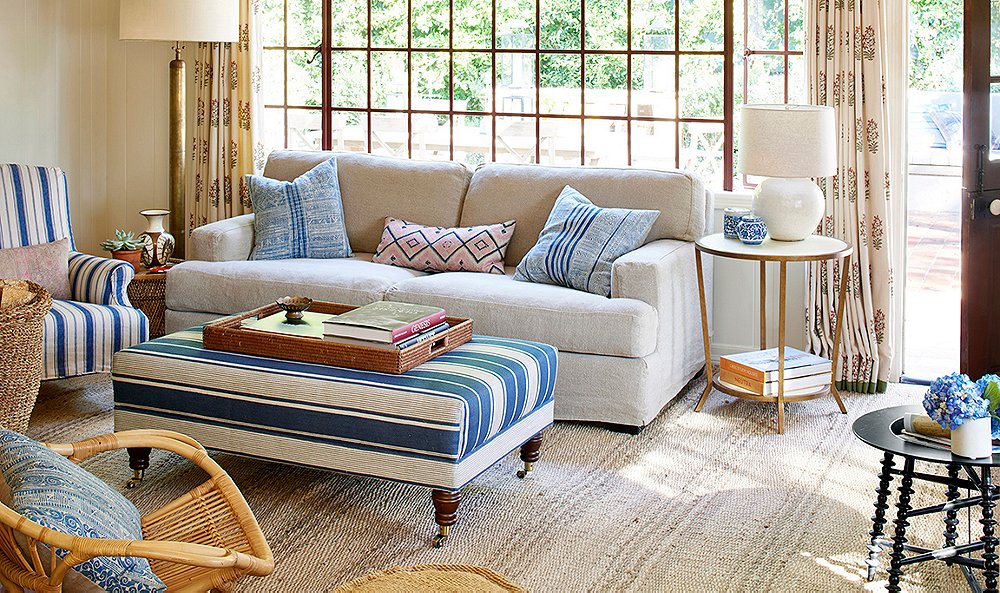 They are calling the look "polished Bohemia" and whatever you call it - it's blue and white chinoiserie, rattan and, you guessed it, bamboo furniture, ethnic fabrics, white walls.
Or, in my opinion, perfection!
And I quote, "

A bold stripe pops into your peripheral view; a raffia-wrapped daybed becomes just the thing your own living room needs; collections of blue-and-white

chinoiserie

remind you of the power of a classic finishing touch. Simply put, you can't see this movie without wanting a little piece of it for yourself. "
What I love about this look and these sets is that we have many of these items in our home and our booth and the look is easily attained with vintage finds!!
First up, and we were dying to have these chairs BEFORE the movie and the OKL rec, so imagine how much we're all going to want them now!
bamboo coffee tables and shelves
I just cannot wait to see this movie and these fabulous rooms on a big screen!!
But, you better grab yourself some rattan and bamboo furniture and blue and white chinoiserie right now because it's going to be bigger than ever.
And for those of us who have long loved these vintage style pieces we can just feel smug knowing we were ahead of the curve!!
All images above from One King's Lane.
You can see more bamboo goodness on their shopping guide.
Update:
Mollie and I went to see the movie Sunday night.
Let me preface this with two things:
1. A couple of people had responded to this blog post and on IG saying that the stills of the set we had already seen were all you saw of the house and that was disappointing and the movie was just okay. Didn't change anything for me - we were excited to go.
2. I go to movies to be entertained and distracted from real life for a bit. I'm not critical. I don't care about awards. I'm looking for entertainment value when I splurge and go and I like to laugh a little, maybe cry a little and a gorgeous house and scenery are a bonus. Going to the movies is something Mollie and I share as a fun Mother - Daughter thing so I'm already excited about going to a movie.
We loved it.
We laughed out loud.
There were serious and touching moments. I don't know if scenarios like this "really happen" but I don't care. I'm not looking for a documentary. I'm looking for delightful and it was. And movies are so built up in advance that sometimes I think that works against them. Not this movie. It's sweet and funny and the characters are people you would like to know.
I want to marry the house. It's gorgeous and the outdoor scenes are fabulous.
And we went to see it at 8:45 on a Sunday night the weekend that the entire state of Florida had evacuated to Atlanta and half the cars in the theatre parking lot had FL tags. And everyone in our theatre was laughing and talking afterwards about how much they adored the movie and the characters and the sets.
So kudos to Nancy Meyers and her daughter Holly for producing a movie that enchanted and distracted an audience from above average every day worries.
Well done.
Mollie and I are considering going to see it again - we can't wait for the DVD!